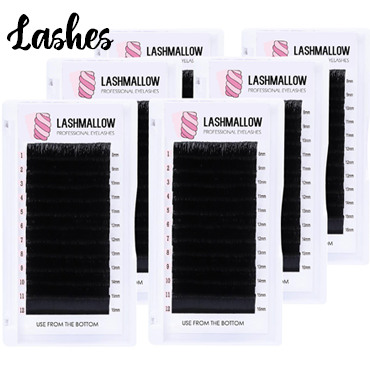 Lashmallow offers both label printing & printing service whereby your brand logo is printed directly on the products you order.
We can private label a wide variety of eyelash extensions, eyelash extension glues, under-eye pads, tweezers, before care, and aftercare products.
To get more information please contact our OEM specialist at info@lashmallow.com or Whatsapp: 0086-155-8899-9320.
Why 3d Mink Lashes Are the Best?
Because the 3D Mink Eyelashes are the ones that are durable and waterproof. The best lashes are waterproof and can be worn all day. These 3D mink lashes come in different colors and styles.
Lashes are an accessory. A bold lip and a bold eye are what make a look come together. That's why a lot of people seek to get fuller lashes with extensions.

But extensions can get really pricey and typically last a few weeks—the solution: 3D Mink Lashes. 3D Mink Lashes are affordable, easy to apply, and can last for up to 6 weeks. In addition, 3D Mink lashes give you the look of false lashes without the hassle. 
In all kinds of eyelashes, 3d mink lashes are the most comfortable to wear. Because it is very light and soft, so you can wear it for a long time without feeling uncomfortable. Because mink fur is a natural material and it does not contain any chemical components in the production process. So it won't irritate your skin during use, and it won't make you allergic. You can use them safely.

In all respects, 3d mink lashes have their advantages. For the long term, 3d mink lashes are the best-selling and popular style. When you are buying false eyelashes, 3d mink eyelashes are your best choice.
Help Grow Your Eyelash Extension Business
Private Label Eyelashes Extension Wholesale
As a private label lashes manufacturer, we could supply both eyelash extensions and strip lashes in most materials. Regarding private label for lashes extensions, most popular packages are cardboard boxes, magnetic paper boxes and plastic boxes.
We could custom both paper cards and size stickers for lash extensions.
We also private label and add your logo to lash cleansers and eyelash extension aftercare kits. We help lash artists and lash trainers brand their own lash products.
How can I Start the Private Label Eyelash Extension?
Once you have purchased our private label service, please kindly send your logo to our email: info@lashmallow.com. Our design team would create the layout of the lash tray for your approval, then proceed with your lash extensions orders.