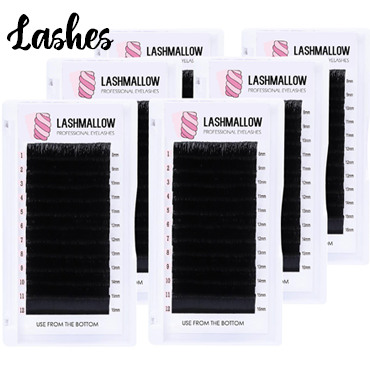 Lashmallow offers both label printing & printing service whereby your brand logo is printed directly on the products you order.
We can private label a wide variety of eyelash extensions, eyelash extension glues, under-eye pads, tweezers, before care, and aftercare products.
To get more information please contact our OEM specialist at info@lashmallow.com or Whatsapp: 0086-155-8899-9320.
How To Remove Your Eyelash Extensions?
Please remove your eye makeup first. Use an eye makeup remover to wipe away mascara or eyeliner. It will make it easier for you to check where the eyelash extension begins and your real eyelashes end.
Please steam your face. The eyelash extensions will be loosened by the hot steam. Please follow these steps:
Heat up a bowl of water in the microwave. Let it get hot enough to produce steam.
Hold your face over the bowl and drape a towel over your heat, to trap the steam around your face.
Steam your face for about ten minutes.
Wet a cotton ball with olive oil. Wipe it on your eyelashes, you should take care and not get any in your eyes. Continue gently wiping your lashes with oil, the eyelash extensions will begin to fall off.
Rinse your eyelashes. Wash away the oil with warm water.
Help Grow Your Eyelash Extension Business
Private Label Eyelashes Extension Wholesale
As a private label lashes manufacturer, we could supply both eyelash extensions and strip lashes in most materials. Regarding private label for lashes extensions, most popular packages are cardboard boxes, magnetic paper boxes and plastic boxes.
We could custom both paper cards and size stickers for lash extensions.
We also private label and add your logo to lash cleansers and eyelash extension aftercare kits. We help lash artists and lash trainers brand their own lash products.
How can I Start the Private Label Eyelash Extension?
Once you have purchased our private label service, please kindly send your logo to our email: info@lashmallow.com. Our design team would create the layout of the lash tray for your approval, then proceed with your lash extensions orders.