How do I find an eyelash vendor?
The business of selling fake eyelashes depends on getting good quality supplies at reasonable wholesale prices. People can become very attached to an eyelash brand, so it's important to have vendors as part of your supply chain. If you want to start a business selling false eyelashes, finding a vendor is the first and most important step.
The market for false eyelashes and accessories is growing rapidly, and eyelash sales are a perfect full-time business or way to earn alternate income. You can sell eyelashes online or through an extensive network of contacts. Some of the favorable eyelash sales statistics include: [1]
Eyelash extension grew by more than $270 million between 2017 and 2018
About half of eyelash sellers have their own website
Professional eyelash technicians can charge between $61 and $180 for a full set of eyelashes
About 75 percent of U.S. eyelash professionals earn $50,000 or more annually
About 80 percent of eyelash sellers state that they are satisfied or very satisfied with their career choice
There are many options for finding a good eyelash vendor, but the first and most obvious way to start is by running a Google search. Professional wholesale eyelash suppliers should have a website, and you can easily find vendors with a keyword search under "wholesale eyelash suppliers" or similar verbiage. You can also research the vendor's business history, find reviews and check for complaints against the manufacturer.
Other options for finding vendors include asking around, checking the yellow pages for local suppliers, going to trade shows where you can see samples, checking marketplace vendors like Alibaba and using any of the other techniques covered in this article.
Types of Eyelash Vendors
The types of businesses that sell wholesale eyelashes include manufacturers, business-to-business, also known as B2B, companies, marketplace wholesalers like Alibaba, distributors and some retail operations that offer wholesale prices for bulk orders. Sourcing agents are consultants who work for you and "source" all the products you need from different manufacturers and distributors.
Depending on a low MOQ, which is the minimum order quantity, the wholesaler/retailer combination option might be ideal for beginners who are selling eyelashes part-time while working in salons or other beauty and health-related services. You might want to carry an inventory of related accessories, such as makeup, brushes, etc.
Use Search Engine Resources to Find a Good Vendor
Google ranks well above the other search engines in popularity, but you can use other search engines like AOL, Yahoo, Baidu, Bing, and others. Search engines show the top-ranking results on the first page, but the top-ranking companies might not be the best for your needs. Here's how you can narrow your search by using longtail keywords:
Search for "eyelash wholesalers"
Search for "eyelash vendors"
Search for "eyelash wholesalers in the United States" or a different country
Search for "eyelash wholesalers in the New York City area"
Search for "mink eyelash manufacturers" or other types of eyelashes
Adding further descriptive information to narrow your search
The various search engines don't always include the best suppliers on the first page of search engine results, but trying to wade through thousands of pages isn't practical.
Other Search Options to Find Eyelash Wholesalers
You can conduct what is called an image search in Google by adding the words image search to your search. For example search for "image search for silk eyelashes in the United States." The search engine return will show images, and you can click on the links underneath the images. Google will take you to the source of the image, which is usually a reputable manufacturer or vendor.

Google Maps is also an excellent search option. You can find both local and global suppliers with this technique. However, some foreign businesses won't be included, and businesses located outside of the United States won't have as much information unless they signed up for Google Maps.
Use search engines, such as google, bing, yahoo, Baidu, AOL, etc.


Local searches also work. For example, you might want to search the Baidu map of China. Just input 假睫毛, which means false eyelash, and you will get a list of Chinese eyelash suppliers. However, you'll need good skills in Mandarin or Cantonese, or you can use a translator, Google Translate or DeepL.
Social Media Searches for Eyelash Vendors
Social media searches include searching for business member pages or accounts on various platforms like Facebook, Instagram, YouTube, and others.

Facebook ranks as the most popular social platform, and it is used frequently for B2B promotions. You can search for the appropriate keyword phrase or join dedicated groups interested in eyelashes to get recommendations from members. Another popular method of researching eyelash wholesalers is finding a group or a key influencer, both of whom may have tested some of the eyelash brands. These groups or individuals may be willing to share or sell the information they've discovered.

Instagram is searchable for similar keyword phrases — such as synthetic eyelash manufacturers in the United States. The return list will show up in a drop-down box, where you can connect with the vendor's Instagram page. YouTube works in much the same way, but you have the added benefit of getting relevant videos that can demonstrate eyelashes more effectively than words or photos. LinkedIn is also searchable, and because of the platform's business slant, it's easy to find wholesalers, distributors and B2B companies.

The same search strategies work for other social platforms like Pinterest, Twitter, Tumblr and others, but the previous four platforms are probably your best bets. You can track eyelash brands and styles through the pins on Pinterest, but it might take some time.
B2B Marketplace Forums Are Designed to Find Multiple Products and

 

Suppliers
Marketplace platforms like Alibaba are designed to carry many of the products that a business needs in one place. That makes Alibaba the perfect place to search for wholesale eyelashes and accessories for your fledgling business.
An excellent example is the following link at alibaba.com. You can put your keyword phrase in the search bar — such as 3D mink lashes or Eyelash Extension Manufacturer — and the internal search will produce pictures, prices, descriptions, and important information about the B2B vendor and its products.

A Gold-rated supplier denotes a company that is legally registered, and you should make sure that a company has this rating before doing business with it.
Trade Assurance is a built-in protection service for the customers of Alibaba's vendors. It ensures that customers get what they order on time and in good condition.

The site also lists the number of years that the vendor has been registered with Alibaba as a gold supplier. The longer the company has been registered, the more likely it is that the company is reputable and reliable.
The vendor pages also provide information on the Transaction Level. The higher the score, the greater the transaction volume. For example, vendors earn 30,000+ for 60 successful transactions.

The Response Rate and Delivery Rate are also rated. Alibaba is a one-stop-shop for researching vendors and buying wholesale products with strong, built-in protections. Again, the higher the score, the better the response rate or delivery rate will be.
Check Out Exhibitions and Trade Shows to Find Eyelash Vendors
Trade shows and exhibitions are held throughout the United States, Canada, Mexico and other countries to show the latest eyelash extension styles and accessory products. China exhibitions are very numerous and popular. Trade shows and conferences are a great place to get information about multiple vendors, see the actual products and ask any questions you may have. As always, you can perform a Google search for lash-related trade shows in your immediate area or travel to exhibitions located further afield.
How to Find a Lash Exhibition
There are many strategies that work well to find a lash exhibition. For example, running a Google search revealed a Pinterest post about the top 20 lash exhibitions and events. [2] A Google search revealed an article called "Wednesday Wink — Note These Conferences and Trade Shows For Salon Professionals in Your 2019 Calendar." [3] You can also get information on exhibitions at beautystorebusiness.com, which include eyelashes, beauty accessories and other salon products, [4]
The Five Best Lash Exhibitions and Best Website Information
Some of top U.S. eyelash exhibitions include:
The International Esthetics, Cosmetics and Spa Conference held in various cities Like New York, Philadelphia, Las Vegas, etc. [5]
The Conference for Salon & Spa Professionals by NASNPRO, which is held in various U.S.cities throughout the year [4]
The Image Expo, which is held in Houston, Texas [6]
Face & Body® Spa Expo & Conference by Skin Inc., which is held in various U.S. cities throughout the year
Bella Lash Trade Shows, which are held in multiple U.S. cities throughout the year [2]
Supplier websites can be very helpful by educating customers, answering their questions and providing unparalleled customer service options and access to a customer's ordering and browsing history. Some of the best supplier websites include both American and Chinese sites:
Lashmallow Lashes Focuses on customer Service
Lashmallow Lashes, a top Chinese Eyelash Manufacturer, simplifies the searching and ordering processes, which is especially helpful for startup companies. The company's website at lashmallow.com is beautifully designed, fully integrated, and easy to navigate. [7] The company has more than 8 years of experience and is well trusted by its reputable list of eyelash retailers.

The company manufactures custom eyelashes with your logo and requires a low minimum order quantity. Your special designs are protected and not duplicated for other retailers. The supplier carries silk and faux mink eyelashes, and it specializes in hand-painted eyelash extensions.
Private Label Extensions
Privatelabelextensions.com is the top U.S. manufacturer of custom eyelash extensions and eyelash strips. [8] Its inventory includes 3D Minks in standard, thin-line and 25-millimeter widths. The company also carries 5D Mink and a 3D Faux Volume lines of lashes.

The website is easy to navigate and includes dozens of styles, sizes and colors of eyelashes in high-resolution photos. The website adjusts well for browsing from your phone, and the company also supplies wigs and weaves.
Haiteng USA Corporation
Haiteng USA Corporation, which is based in New York, carries a full line of lashes including strip, individual lash extensions, flare lashes and lash accessories. [9] Retailers can also design their own lashes.

The website makes it easy to find products and learn more about the industry and lash trends. The company is both a distributor and manufacturer of hair-related products.
How to Attend a Lash Exhibition as a Visitor
Beauty product trade shows, eyelash exhibitions and conferences can increase your industry contacts and knowledge of eyelash products, so it's worth attending one or more of these events. The benefits of attending trade shows:
You get a wide view of the industry in a short time, usually a weekend.
You can learn about the latest industry developments and trends, and you get a chance to buy new products before your competitors.
Sales in the eyelash business are booming, and you can get contacts for networking with top companies.
Special deals and discounts are usually offered by vendors as introductory offers.
Free classes are available based on purchasing a ticket to the show
Some trade shows don't charge admission for guests, but some do. You'll have to research the event to find out about the admission policies. Things are somewhat difficult during the Coronavirus, but that will hopefully change soon. Most exhibitions charge for setting up a booth. The representatives of exhibition participants sometimes offer potential customers free tickets to attend.

However, conferences usually have a stiff fee, and most attendees need to pay travel and hotel fees. Registration fees for guests are usually low, however. The trade show wants people to attend, so the fees seldom present a problem for most people.

Collecting information on products and services is generally very easy. Most companies provide flyers and circulars about their products, business cards and other printed information. Some offer codes to get a great deal when ordering products online. Many vendors offer free sample products to attendees.
How to Get a Copy of a Lash Exhibition Catalog
Most trade shows offer attendees the option of ordering a catalog of the exhibition in advance. Just contact the trade show, and request one. These are almost always sent without cost or obligation on your part. The catalogs are useful for planning which exhibits to visit, classes to take and demonstrations to attend.
Useful References for Trade Shows and Exhibitions
There are many websites that offer invaluable information about upcoming trade shows, eyelash suppliers, business addresses and information that relates specifically to the eyelash industry. These include ReferenceUSA, thomasnet.com, WorldWide Brands and Maker's Row. [11]

ReferenceUSA maintains a list of business addresses that include eyelash vendors and trade show headquarters. Thomasnet.com offers information on suppliers, products, equipment and services. Worldwide Brands provides the names and addresses of distributors all over the world, and you just need to list a particular product to get a list of suppliers for that product. Maker's Row provides connections to more than 10,000 U.S. manufacturers.
Choosing Between Chinese and American Eyelash Vendors
U.S. residents who want to start an eyelash business can choose from B2B companies, manufacturers, distributors, sourcing agents and marketplace platforms from all over the world for their inventory. However, as the most practical options, most business owners in the United States choose Chinese or American eyelash suppliers.

Chinese companies tend to be much cheaper because of the low cost of labor. The Chinese also have a strong reputation of supplying excellent beauty supplies for hair salons, nail salons and other beauty-related businesses.

American wholesalers charge higher prices, but you can avoid the problems of hiring translation services, paying import duties, hiring a sourcing agent, communicating in nearly opposite time zones, paying higher shipping costs and adapting to cultural barriers.

Sourcing agents work for you to find the products you want from different manufacturers, wholesalers, distributors and B2B companies. Distributors carry a limited selection of products and brands, and you must choose among the specific products that they carry. Marketplace platforms offer multiple vendors with their own product lines, usually centered around a particular industry, job or product line.

Both the United States and China offer high-quality lash extensions and accessories, so that aspect of comparison rates as a draw. Some business owners want to try wholesalers from both countries to determine which they like better.
How to Determine Whether Vendor Is Good
There are numerous ways to rate a vendor: price, product quality, customer service, MOQ, bulk discounts and other criteria. You can get an idea of the price by comparing the price of the same or similar products. Testimonials and B2B reviews are important tools for investigating a vendor's reputation. You can also ask the vendor's customers whether the company has a good reputation, responds promptly to complaints, etc.

You can also check a vendor's reputation with the local chapters of the Better Business Bureau and chamber of commerce. Vendors also tend to post information about their reputation on their websites. You can find out whether they have Quality Assurance endorsements or other essential proofs like Google Vendor endorsements. Does the company have a strong quality assurance policy and offer replacements or refunds for defective merchandise? The answer is important to know.

Stability is also important, and that usually means being in business for a long time. Usually, 10 years or more in business indicates stability. Proximity means lower shipping costs and a higher sense of responsibility if the vendor is a part of your community. Overseas orders are more common throughout the world these days, but these can take months to arrive at your store or place of business. Reliability is critical.

Minimum and maximum wholesale orders can also be a big stumbling block for startup companies. It's the minimum order that concerns most small companies that don't want to invest too much in inventory because of cash flow problems and the undetermined sales appeal of a new product line.
Types of Popular Eyelash Extension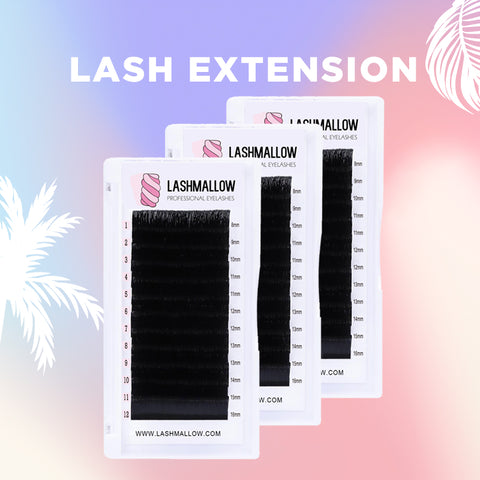 You should know the most popular eyelash styles so that your customers will consider you well-informed about eyelashes, accessories and makeup trends. Eyelash extensions can be used to create an astonishing variety of different looks. Your customers might prefer light extensions that provide a natural look or bold, glorious lashes that mimic popular celebrity looks on the red carpet. The types of popular eyelashes include:
Mink Eyelashes
Mink eyelashes

 

are most commonly worn by celebrities. Made from the fur of minks, the eyelashes are considered as glamorous as mink coats — without the negative connotations of wearing fur.
Faux Mink Eyelashes
These are a popular type of synthetic eyelash that mimics the look of mink lashes.
Silk Eyelashes
Silk eyelashes are medium in weight, and they are more flexible and lighter than synthetic lashes. They're also softer and last longer than synthetics. Your customers can make them appear as dense as synthetic lashes for glamour looks, or you can color them lighter for a natural look. Silk eyelash extensions are the most popular type of eyelashes used by brides.
Sable Eyelashes
These eyelashes are manufactured from the fur of the sable, a forest animal that is commonly found in the forests of Siberia and Russia.
Synthetic Eyelashes
Synthetic lashes are made of polished acrylic material, and they are the sturdiest type of lash extension. Synthetics are often chosen by those who want to appear heavily made up for formal occasions, costume parties, stage makeup, etc. The extensions are shiny and glossy, and they hold curls well for dramatic looks.
Custom Lashes
Some suppliers offer highly

 

customized lashes and packaging

 

that features your brand logo.
Special Lashes
Any fancy type of lash can be special-ordered from some suppliers. These include Feather lashes in various colors.
Doll Lashes
Doll lash designs have a concentration of thick lashes in the center of the eye.
Starting Your Own Eyelash Business
There are many steps to starting your own business, but the most important is how to find eyelash vendor supplies. Your network of contacts might give you some good recommendations. You can perform your own Google searches, check out some of the resources mentioned in this article, attend one or more trade shows and/or hire a dedicated sourcing agent for your needs.

The best strategy is to find high-quality products and learn your craft so that you can customize your orders. If you are a perfectionist with a good eye for eye makeup, selling eyelashes, artistic designs and accessories could be the most rewarding and satisfying career you could choose.

You can sell your products online or in your own brick-and-mortar shop. You can also schedule appointments and make sales on the side while working at other professions where you have lots of contact with women and/or gay men. Be sure to get a presence on Facebook or other social platforms to get a steady supply of sales links. Business is booming, and you can get your fair share of the market by finding a high-quality, stable and reputable eyelash supplier.
Private Label Eyelashes Extension Wholesale
As a private label lashes manufacturer, we could supply both eyelash extensions and strip lashes in most materials. Regarding private label for lashes extensions, most popular packages are cardboard boxes, magnetic paper boxes and plastic boxes.
We could custom both paper cards and size stickers for lash extensions.
We also private label and add your logo to lash cleansers and eyelash extension aftercare kits. We help lash artists and lash trainers brand their own lash products.
How can I Start the Private Label Eyelash Extension?
Once you have purchased our private label service, please kindly send your logo to our email: info@lashmallow.com. Our design team would create the layout of the lash tray for your approval, then proceed with your lash extensions orders.