Top Private Label Lash Suppliers USA
Top Private Label Eyelash Manufacturers in the USA and Internationally
Share:
Having a full set of thick and luscious eyelashes is all the rage on the beauty and cosmetic scene, and mascara is by no means the only way to achieve the coveted look. False eyelashes (or "falsies") have been around since the beginning of the last century and have made an enormous comeback in recent years. According to Grandview Research, the global false eyelashes market size was valued at $1.1 billion in 2018 and registered a 5.4% compound annual growth rate over the forecast period, set to hit $1.6 billion by 2025.
If you own a cosmetic company selling a range of eye makeup products, you'll want to make sure that false eyelashes are also on your product list and, in order to do so, you'll have to find a top private label eyelashes company to supply you with the best falsies around. We've found some of the top suppliers below in the USA and internationally to get you started.
Types of False Eyelashes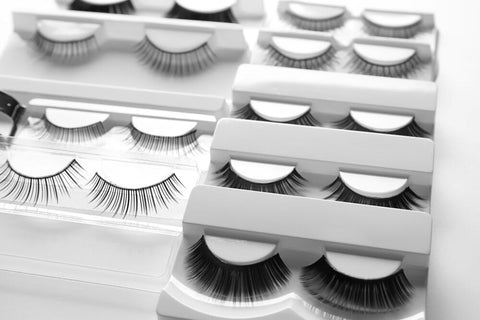 Packs of various false eyelashes
Image credit: Shutterstock/Africa Studio
The most common types of false eyelashes are the day-use falsies that you apply to complete your makeup look and then remove when you take your makeup off for the day. More recently, however, eyelash extensions have been gaining rampant popularity. A more permanent false eyelash solution, eyelash extensions can last up to eight weeks after each application, provided regular maintenance sessions are attended.
There are three main categories of false eyelashes on the market:
Strip lashes are a full set of lashes that cover the whole of the top lash line, are easy to apply, and have to be removed after each wear.
Individual flare lashes are a small bunch of around 10-15 individual lashes that you can place sporadically on the lash line to give the more natural appearance of fuller eyelashes without the dramatic look of a full strip. These can also be used for eyelash extensions.
Single lashes, or lash-by-lash, are most commonly used for eyelash extension treatment. Application is quite time-consuming and finicky so these are usually left for the professionals.
These eyelashes come in an array of either man-made materials such as rubber, plastic, and other recyclable materials, or animal fur, like mink, sable, horse, or fox. Human hair lashes are also available. Synthetic material lashes are cheaper than the animal- or human-hair alternatives but are not as hard-wearing and don't look as natural. They come in various shapes, lengths, densities, curl-style, and colors. In addition, some of the newer strip eyelashes come with a magnetic application system ensuring they stay in place without the use of chemical adhesive.
Whatever type of false eyelashes you require, be sure to liaise with the private label manufacturer to find the ones that best suit your company's brand. Scroll down to find some of the top private label eyelashes companies in the USA and internationally.
Top Private Label Eyelashes Companies in the USA and Canada
While most of the top private label false eyelash manufacturers are based in China, this table contains information on some of the private label eyelashes companies in the USA and Canada, ranked (where available) by annual sales. Additional details on each company's headquarters location, and the number of employees are also included, as well as summaries of company activities below.
| | | | | |
| --- | --- | --- | --- | --- |
|   | Company | Headquarters | No. of Employees | Annual Sales |
| 1. | Private Label Extensions | Georgia | 15 | $7 Mil |
| 2. | Pinnacle Private Label Cosmetics | ON, Canada | 16 | $6.34 Mil |
| 3. | Haiteng USA Corp | New York | Unavailable | Unavailable |
Information from owler.com, dnb.com, and company websites.
USA Private Label Eyelashes Company Summaries
Private Label Extensions is the top USA-based lash and hair extension supplier, providing an array of mink and faux-fur lashes for private labeling.
Pinnacle Private Label Cosmetics is a Canadian private label cosmetics company offering various synthetic and natural-hair false eyelashes in addition to their large catalog of other beauty products.
Haiteng USA Corp is based in New York and specializes in the designing, manufacturing, and distributing of all types of false eyelashes, including strip, individual, and flare lashes. Customers can choose from pre-made designs or customize their own.
Private Label Eyelashes Extension Wholesale
As a private label lashes manufacturer, we could supply both eyelash extensions and strip lashes in most materials. Regarding private label for lashes extensions, most popular packages are cardboard boxes, magnetic paper boxes and plastic boxes.
We could custom both paper cards and size stickers for lash extensions.
We also private label and add your logo to lash cleansers and eyelash extension aftercare kits. We help lash artists and lash trainers brand their own lash products.
How can I Start the Private Label Eyelash Extension?
Once you have purchased our private label service, please kindly send your logo to our email: info@lashmallow.com. Our design team would create the layout of the lash tray for your approval, then proceed with your lash extensions orders.